[SPAM] दोनों अपने अपने ठिकाने पर बिलकुल सही बैठे है
Edited photo of Arvind Kejriwal and Bhagwant Mann is shared with misleading claims on social media
Post Information:
The below post has been circulating on social media
दोनों अपने अपने ठिकाने पर बिलकुल सही बैठे है

#धोखेबाज_केजरीवाल
दोनों अपने अपने ठिकाने पर बिलकुल सही बैठे है। pic.twitter.com/xltkUrb67H

— kamlesh gupta (@kamsgupta4) January 17, 2022

https://twitter.com/IYCPunjab/status/1482762673041588224?ref_src=twsrc%5Etfw%7Ctwcamp%5Etweetembed%7Ctwterm%5E1482762673041588224%7Ctwgr%5E%7Ctwcon%5Es1_&ref_url=https%3A%2F%2Fpublish.twitter.com%2F%3Fquery%3Dhttps3A2F2Ftwitter.com2FIYCPunjab2Fstatus2F1482762673041588224widget%3DTweet
Verification: Edited photos of Arvind Kejriwal and Bhagwant Mann is shared with false claims
The post of Arvind Kejriwal and Bhagwant Mann is shared on social media widely with false claims "दोनों अपने अपने ठिकाने पर बिलकुल सही बैठे है।". In fact, the photo is edited. Check the links below to know he facts:
The original photo can be seen in the article shared by The Tribune. The original photo of liquor shop at the back can be seen here in the article published on 4th Feb 2020. Check the screenshot shared below from the articles: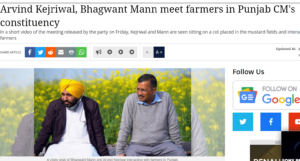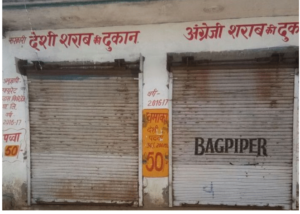 Check the YouTube video shared by Aam Aadmi Party on 14th Jan 2022
We ensure that you are updated with the facts. Please Check4spam before you believe and forward any doubtful image, message, or video. Be cautious, be safe.
---
Find all fact-checking articles about news using Nokiye.com
दोनों अपने अपने ठिकाने पर बिलकुल सही बैठे है I Nokiye
---
Post Date: 18 Jan 2022
Post ID: #79673