[SPAM] तेलंगाना के मुख़्यमंत्री के K चंद्रशेखर राव ने बॉक्सिंग मे गोल्ड मेडल जितने वाली Nikhat Zareen  को पचास लाख इनाम दिया
An old photo of woman boxer Nikhat Zareen is being widely shared on social media with misleading claims after she won gold in boxing
Post Information:
The below post has been circulating on social media
तेलंगाना के मुख़्यमंत्री के K चंद्रशेखर राव ने बॉक्सिंग मे गोल्ड मेडल जितने वाली @nikhat_zareen निखत को पचास लाख इनाम दिया

https://twitter.com/AamirAzamU/status/1529787325869195265?ref_src=twsrc%5Etfw%7Ctwcamp%5Etweetembed%7Ctwterm%5E1529787325869195265%7Ctwgr%5E%7Ctwcon%5Es1_&ref_url=https%3A%2F%2Fpublish.twitter.com%2F%3Fquery%3Dhttps3A2F2Ftwitter.com2FAamirAzamU2Fstatus2F1529787325869195265widget%3DTweet
Verification: An old photo of woman boxer Nikhat Zareen, receiving a cash prize from Telangana CM K. Chandrashekhar, is from the year 2014
An old photo of woman boxer Nikhat Zareen is being widely shared on Twitter and Facebook with the claim "तेलंगाना के मुख़्यमंत्री के K चंद्रशेखर राव ने बॉक्सिंग मे गोल्ड मेडल जितने वाली @nikhat_zareen निखत को पचास लाख इनाम दिया" after she won gold in boxing.
In fact, the photo is from the year 2014 when Sporting achievers were felicitated by the state government during the Independence day celebration. The description of the photo is "Chief Minister K. Chandrasekhar Rao shakes his fist as he hands a cheque for Rs 50 lakh to woman boxer Nikhat Zareen in Hyderabad on Friday. — P. Surendra." Check the screenshot from  Deccan Chronicle. The article was published on 16th August 2014.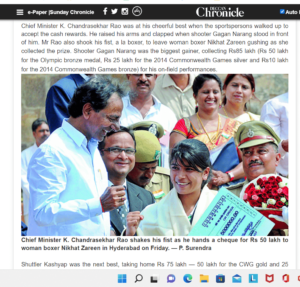 We ensure that you are updated with the facts. Please Check4spam before you believe and forward any doubtful image, message, or video. Be cautious, be safe.
---
Find all fact-checking articles about news using Nokiye.com
तेलंगाना के मुख़्यमंत्री के K चंद्रशेखर राव ने बॉक्सिंग मे गोल्ड मेडल जितने वाली @nikhat_zareen निखत को पचास लाख इनाम दिया I Nokiye
---
Post Date: 08 June 2022
Post ID: #80323