[SPAM] कैब हटाओ इस देश को मुस्लिम राष्ट्र बनाओं

This is a fake post with false claims about placards held by people at sit-in held at India gate by Priyanka Gandhi Vadra. Please read more about it in verification section of this article.
Post Information:
Below post has been circulating on social media.
"कैब हटाओ इस देश को मुस्लिम राष्ट्र बनाओं"

कैब को हटाओ
इस देश को
मुस्लिम राष्ट्र बनाओ।
यह स्थिति जब है जब #CAB से भारत के मुसलमान का कोई लेना देना नहीं है।
काँग्रेस,सपा,बसपा,केजरी,तृणमूल,शिवसेना,भी मुस्लिम राष्ट्र के पक्ष में है।
सबूत 👇zoom करके देखे।@narendramodi @myogiadityanath @priyankagandhi pic.twitter.com/yS8ORlx4GA

— शिवप्रताप सिंह 🇮🇳 🇮🇳 RTI activist..✍ (@Shivpratap_RTI) December 24, 2019
Verification: Morphed image is shared with false claims
Check the links shared below to know the facts about the image shared with false claims:
Priyanka Gandhi Protests at India Gate Against Jamia Crackdown: Congress leader Priyanka Gandhi Vadra holds a sit-in at the India Gate in a show of solidarity with the students from Jamia Millia Islamia and several other universities across the country protesting over the Citizenship Amendment Act, in New Delhi. Read more @ News18
The placard does not read "कैब हटाओ इस देश को मुस्लिम राष्ट्र बनाओं". In fact it reads "लाठी-गोली नहीं रोज़गार-रोटी दो". Morphed image is shared to create fake and misleading information. This is shared on social media several times by many people with false claims. You can see the same people in the links below. The placard is added to the image to create fake image. No one is holding any placard that reads "कैब हटाओ इस देश को मुस्लिम राष्ट्र बनाओं".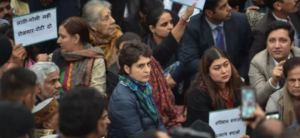 Gatherings banned in parts of India capital after citizenship law demos:  Priyanka Gandhi Vadra, a leader of India's main opposition Congress party, along with her party's supporters attend a protest against a new citizenship law, in front of India Gate war memorial in New Delhi December 16, 2019: Read more @malaymail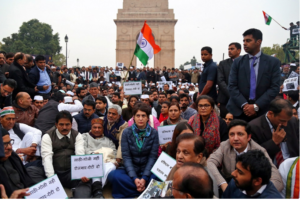 ---
We ensure that you are updated with the facts. Please Check4spam before you believe and forward any doubtful image, message or video. Be cautious, be safe.
---
Find all fact checking articles about news using Nokiye.com
कैब हटाओ इस देश को मुस्लिम राष्ट्र बनाओं  I Nokiye
---
Post Date: 28 Dec 2019
Post ID: #74768