[SPAM] इन सरदार जी की मूछें कहाँ गईं ये पक्के से कोई जिहादी है जो सरदार का नाम खराब करने आया है
The edited image of a Sikh person is shared with false claims on social media that project a Sikh as a Muslim man
Post Information:
Below post has been circulating on social media.
इन सरदार जी की मूछें कहाँ गईं ये पक्के से कोई जिहादी है जो सरदार का नाम खराब करने आया है

https://twitter.com/ArnabGofficial7/status/1334011430694121475?ref_src=twsrc%5Etfw%7Ctwcamp%5Etweetembed%7Ctwterm%5E1334011430694121475%7Ctwgr%5E%7Ctwcon%5Es1_&ref_url=https%3A%2F%2Fpublish.twitter.com%2F%3Fquery%3Dhttps3A2F2Ftwitter.com2FArnabGofficial72Fstatus2F1334011430694121475widget%3DTweet
Verification: Edited image of a Sikh is shared with misleading claims
The edited image of a Sikh person is shared with false claims on social media with false claims "इन सरदार जी की मूछें कहाँ गईं", "इन सरदार जी की मूछें कहाँ गईं ये पक्के से कोई जिहादी है जो सरदार का नाम खराब करने आया है', "बिना मूछों वाला चूसलमान सरदार " that can be seen here, here , here and here.
The man in the viral post can be seen in the video posted by Hindustan LIVE Farhan Yahiya on Facebook on 29th November 2020. He is a Sikh and not a Muslim. He can be seen with moustaches in the video. The video is shot at Nirankari Maidan at Burari near Singhu Border as the caption indicates "आधी रात में सिंघु बॉर्डर से बुराड़ी के निरंकारी मैदान में आंदोलनकारी किसानों के लिए खाना पानी लेकर बड़ी तादाद में आगे आए मुसलमान लेकिन सिखों ने उड़ा दीं #Modi और #Kejriwal की बुरी तरह धज्जियाँ." The discussion is about Farmers Protest. Check the screenshot from the video: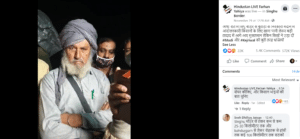 Check live updates about Farmers Protest @ ZEE News.
We ensure that you are updated with the facts. Please Check4spam before you believe and forward any doubtful image, message or video. Be cautious, be safe.
---
Find all fact-checking articles about news using Nokiye.com
इन सरदार जी की मूछें कहाँ गईं ये पक्के से कोई जिहादी है जो सरदार का नाम खराब करने आया है  I Nokiye
---
Post Date:  06 Dec 2020
Post ID: #78062