[SPAM] अमेठी में हुई राहुल गाँधी की जोरदार पिटाई
The photoshopped image of Rahul Gandhi circulating on social media is not true. Please find more details about it at the verification section of this article.
Post Information:
Below post has been circulating on social media.
'राहुल गांधी का आज अमेठी में जोरदार स्वागत हुआ। कुछ ज्यादा ही पेला है।'

अमेठी में हुई राहुल गाँधी की जोरदार पिटाई
Verification: It's a photoshopped image of Rahul Gandhi
The post shared is with photoshopped image of Rahul Gandhi. The image has been take from the following link and is being manipulated for political agendas. When you open the shared link, you can see this image. The truth will be in front of your eyes. Never believe blindly what you recieve. Just check4Spam.
"In Latest Controversy, BJP Says Rahul Gandhi Referred To Lord Shiva As 'it'" published on September 05, 2018: Read more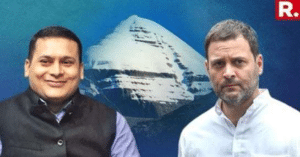 We found similar image when we searched on Google. Check the snapshot below:

Compare the below shared fake image with the real image shared above, you can now see the truth. The mountains, background and the posture of Rahul Gandhi is exactly the same.Only the eye and the area around it is being changed to show swollen. Hence it is confirmed that the image is photoshopped.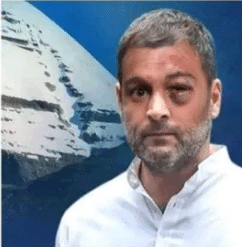 Below is the tweet where Rahul Say "IT":
A man goes to Kailash when it calls him. I am so happy to have this opportunity and to be able to share what I see on this beautiful journey with all of you.#KailashYatra

— Rahul Gandhi (@RahulGandhi) September 5, 2018
Check the tweet by Rahul Gandhi that shows the Kailash Parwat. The viral image also contains the same background, thus we can say the viral image is not from Amethi:
ॐ असतो मा सद्गमय।
तमसो मा ज्योतिर्गमय।
मृत्योर्मामृतम् गमय।
ॐ शान्ति: शान्ति: शान्ति: ॥ pic.twitter.com/hSSLfdwDjq

— Rahul Gandhi (@RahulGandhi) August 31, 2018
We ensure that you are updated with the facts. Please Check4spam before forwarding and believing any doubtful image, message or video. Be cautious, be safe.
---
Find all fact checking articles about news using Nokiye.com
अमेठी में हुई राहुल गाँधी की जोरदार पिटाई | Nokiye
---
Post Date: 16 May 2019
Post ID: #72429