[SPAM] A British Journalist Filmed Swatantrya Veer Savarkar In Cellular Jail
A 1.39 minutes clip of a movie that depicts Vinayak Damodar Savarkar's life in Andaman prison is shared as actual footage of Damodar Savarkar. Please read more about it in the verification section of this article
Post Information:
The below post has been circulating on social media
A British Journalist Filmed Swatantrya Veer Savarkar In Cellular Jail
https://twitter.com/Om_Rashtravadi/status/1597229114238586882?ref_src=twsrc%5Etfw%7Ctwcamp%5Etweetembed%7Ctwterm%5E1597229114238586882%7Ctwgr%5Ebaddb45a080e0a34ca76436313b9e5f3df735373%7Ctwcon%5Es1_&ref_url=https%3A%2F%2Fpublish.twitter.com%2F%3Fquery%3Dhttps3A2F2Ftwitter.com2FOm_Rashtravadi2Fstatus2F1597229114238586882widget%3DTweet
Verification: The viral clip is from the film made by Documentary Filmmaker Prem Vaidya, on the life of Vinayak Damodar Savarkar while Savarkar was in Cellular Jail
A 1.39 minutes clip of a movie that depicts Vinayak Damodar Savarkar's life in Andaman prison is shared as actual footage of Damodar Savarkar. It is being shared widely on Twitter and Facebook. The claim of the video is "Rare footage of BBC by a British journalist who filmed Swatantrya Veer Savarkar in Cellular Jail." Check the links shared below to know the facts:
The video shared below was uploaded with the description "Shri Vinayak Damodar Savarkar was a fearless freedom fighter, social reformer, writer, dramatist, poet, historian, political leader, and philosopher. Savarkar's thoughts touch upon every aspect of nation-building and are relevant even today. The film depicts various important events in his life."
It was uploaded on August 14, 2014, by the official channel of the ministry of information and broadcasting titled, 'Life of Shri Vinayak Damodar Savarkar.'The viral clip is made by cropping scenes from this part of the film. A biographical film on Veer Savarkar, an important figure in the Indian freedom struggle, was born on May 28, 1883, in the village of Bhagur near Nasik in Maharashtra.
In fact, the viral video does not feature Savarkar himself. This is actually an actor portraying the historical figure in a movie commissioned by the Indian government. It was not shot by a British journalist but is a scene from a film directed by Prem Vaidya. Prem Vaidya was a Documentary Filmmaker.
The Film Division mark can be seen in the screenshots shared below
Check out the screenshots of real and viral videos. The same scenes can be seen.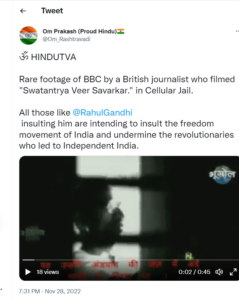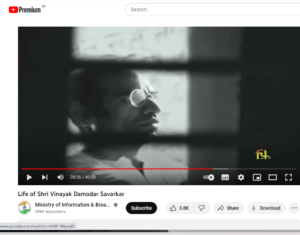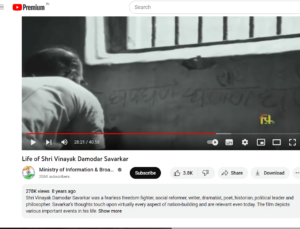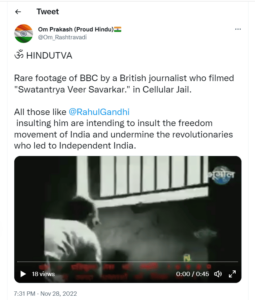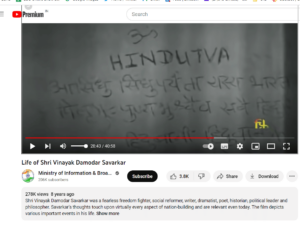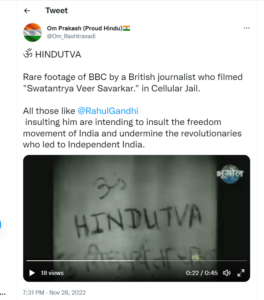 Check out the Lallantop FactCheck regarding the viral clip"
The viral clip is from the film made by  Prem Vaidya, on the life of Vinayak Damodar Savarkar while Savarkar was in Andaman prison.
We ensure that you are updated with the facts. Please Check4Spam before you believe and forward any doubtful image, message, or video. Be cautious, and be safe.
---
Find all fact-checking articles about news using Nokiye.com
A British Journalist Filmed Swatantrya Veer Savarkar In Cellular Jail I Nokiye
---
Post Date: 07 Dec 2022
Post ID: #80857