[SPAM] वंदे भारत Kasaragod To Trivandrum ONAM SPECIAL
The fake post is shared with claims about the train from Kyoto Japan being shared as वंदे भारत Kasaragod To Trivandrum ONAM SPECIAL
Post Information:
The below post has been circulating on social media
वंदे भारत Kasaragod To Trivandrum ONAM SPECIAL
वंदे भारत Kasaragod to Trivandrum ONAM SPECIAL pic.twitter.com/fbJEaaCDp7

— P. lakshminarayana (@GEEMS71) July 30, 2023
Verification: AI-Generated Image of Train Is Shared as Kerala's Onam Special Vande Bharat Express

People have shared an image of a train decorated with flowers on social media claiming that it is the Vande Bharat Express, which has been decorated in light of the Onam festivities. People shared that "this is a picture of a railway station in Kerala specially decorated for Onam. The flowers near the tracks are real and have been planted specially for the occasion. Onam is being celebrated from 20 August to 2 September"
In fact, the viral image was created using Artificial Intelligence (AI) tools by a digital creator, Aneesh Chakkottil, who posted the image on Facebook on 29 July. Aneesh works at Copper And Black Advertising according to his Facebook profile. Copper & Black can be seen on the left side of the image going viral. The train in the image is from Kyoto, Japan. Check the image shared below: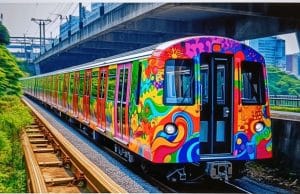 Thiruvananthapuram's divisional railway manager (DRM) also shared a post stating that the viral image of the train decorated with flowers for Onam was fake.
Fake news alert! An edited picture of a colourful train is circulating in social media with a claim that is from a railway station in Kerala. The claim is false. The train in the image is from Kyoto, Japan. Do not fall for fake news! @GMSRailway @RailMinIndia @PIBFactCheck pic.twitter.com/kiArZnygJR

— DRM Thiruvananthapuram (@TVC138) August 25, 2023
Illuminarty tool shows a high probability of the image being AI-generated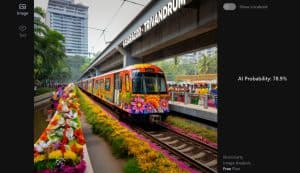 An image of a train as Kerala's Onam special Vande Bharat express is AI-generated.
We ensure that you are updated with the facts. Please Check4Spam before you believe and forward any doubtful image, message, or video. Be cautious, and be safe.
---
Find all fact-checking articles about news using Nokiye.com
वंदे भारत Kasaragod To Trivandrum ONAM SPECIAL I Nokiye
---
Post Date: 05 Sep 2023
Post ID: #81005